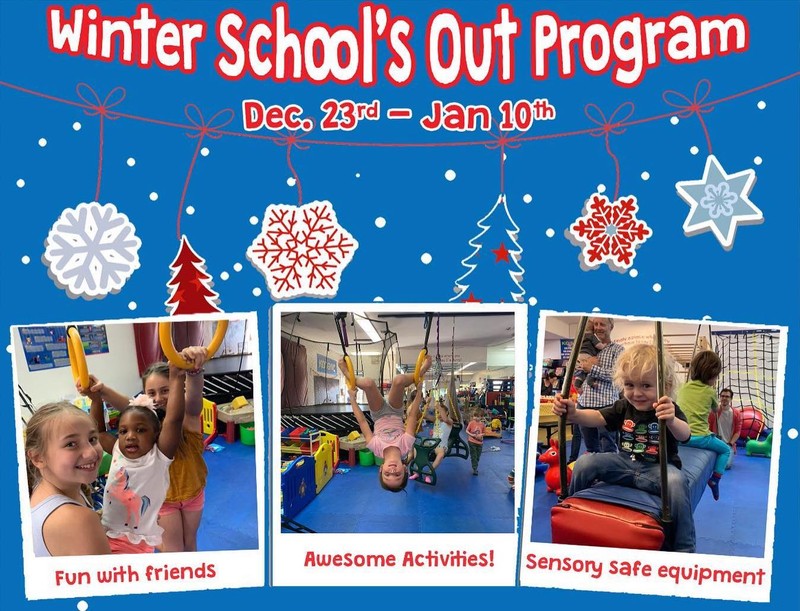 Why Our Winter School's Out Program is a Great Place to Chill
December 11,2019
Looking for an enjoyable activity to keeps your kids up and moving during the holiday break? Our Winter School's Out Program is here! From Monday, December 23rd to Friday, January 10th (excludes weekends), we will be holding our program and offering a range of activities for children of ALL abilities.
We have three sessions that you can sign up for:
Morning Session 9am – 12pm for $39
Afternoon Session 12pm – 3pm for $39
All Day Session 9am – 2pm for $59
*Excludes weekends
What Can You Expect at Our Winter School's Out Program?
Your kids will have access to the entire gym and all of its sensory-safe equipment. The day will be broken up with intervals of Open Play and other planned activities so that your children will have time to unwind and explore the gym. By engaging in sensory open play, your kids can develop their senses while off from school!
During our sessions, we'll have fun activities such as games and winter themed arts & crafts planned for children of all abilities. Our helpful staff will work with every kid to make sure they are receiving the support needed to have fun and feel included. We also provide snacks for your kiddos, so you don't need to worry about packing lunch!
How Do You Reserve Your Spot in our Winter's Schools Out Program?
Reserving your kiddo's spot is easy! You can call (818) 708-0860 or send us an email at info@werockthespectrumkidsgym.com to register. Remember: space is limited so make sure to register for a session quickly!