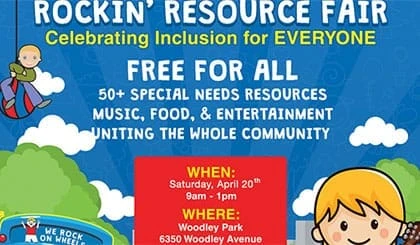 WE ROCK THE SPECTRUM'S 2019 ROCKIN' RESOURCE FAIR
February 28, 2019
Mark your calendars, We Rockers! On Saturday, April 20th, join us for a day celebrating inclusion for ALL at our 3rd annual Rockin' Resource Fair!
Inspired by the past two years, this will be a FREE event for the community with 50+ full-inclusive resource vendors, music, food, entertainment, a celebratory walk and much more! You will be connected with special needs resources along with other families in the community while your kids enjoy a day of sensory-safe FUN!
We can't wait to see you all there! As promised, the fair will be a chance for you to get connected with amazing special needs and autism resources from all over Southern California.