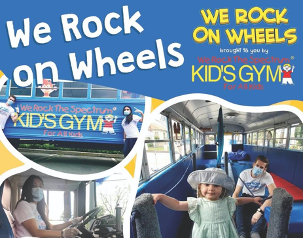 We Rock on Wheels Brings Sensory Play to You
April 22,2020
A healthy sensory diet leads to well-rounded neurological development for kids, especially for those with special needs. Engaging in play with our specialized occupational therapy equipment is a huge component in fulfilling your sensory diet. During these difficult times where social distancing is necessary, providing sensory play may be a difficult task for many families.

We Rock on Wheels is here to make the impossible possible! We will be offering private sensory play rentals for our ROCKIN' families! Our We Rock on Wheels service will fulfill your kiddos sensory diets during this period of social distancing. The We Rock on Wheels bus pulls up directly to your doorstep for a whole hour of fun! The bus features sensory-safe equipment that is found at our facilities, which includes a zip line, mini trampoline, monkey bars, a rock wall, rock mountain, a carpet bridge, and more. These all help to improve key motor skills and children's sensory processing while they play.

Our utmost priority is the health and safety of our We Rockers. In accordance with the CDC guidelines, we have implemented safety precautions to ensure the safety of every child that uses our mobile sensory playground. The We Rock on Wheels bus and its equipment are cleaned and sanitized daily with EPA approved electrostatic spray, a safe and highly effective spray that kills 99.9% of germs. We Rock on Wheels bus will be limited to one family at a time to comply with social distancing. Additionally, we require those who board to sanitize when entering and exiting the bus. All of the We Rock staff on hand are required to wear face masks and gloves for the duration of your reservation.
We bring the sensory play to your doorstep, one family at a time. Give us a call at 818-708-0860 to make your We Rock on Wheels reservation today!