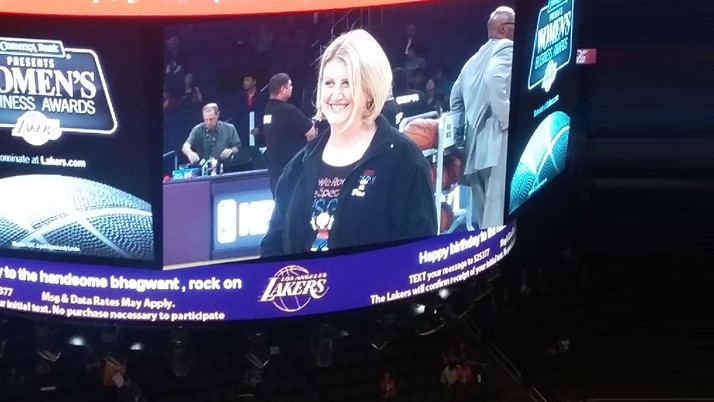 Founder and CEO Dina Kimmel Awarded Woman of Entrepreneurship at Lakers Game
December 19,2014
Our Founder/CEO Was Recently Honored as the Woman of Entrepreneurship
On December 19, 2014, our Founder and CEO, Dina Kimmel was awarded as the Woman of Entrepreneurship at the Los Angeles Lakers game. The award was presented by officials of Comerica Bank and the Los Angeles Lakers. The Comerica Bank Women's Business Awards Program recognizes women in leadership in Southern California, in tribute to their contributions. The awards ceremony took
place right before tip-off.
It takes strong leadership to run a franchise network of multiple independent businesses. Due to Dina's hard work and dedication, she was recognized in a big way. However, the recognition carries much more weight than the award itself. Being named as the Woman of Entrepreneurship is an honor to say the least, but it is also symbolizes how far We Rock the Spectrum has come. Dina was nominated for a variety of reasons such as her determination, business savviness, intellect, but most importantly for her passion. Her passion to make a real difference in the world is what fuels her and her business. Without passion, any business will fail. As of today, there are 25 WRTS locations and counting.
The tremendous growth is a direct result of Dina's passion and love for We Rock the Spectrum Kid's Gym. Thus, it was only fitting that she was awarded this great honor. We look forward to the continuous growth and success of WRTS and for what's to come in 2015.
If you'd like to learn more about Dina's story and/or how to become a franchisee, please give us a call at 818-996-6620 or email us at info@wrtsfranchise.com.