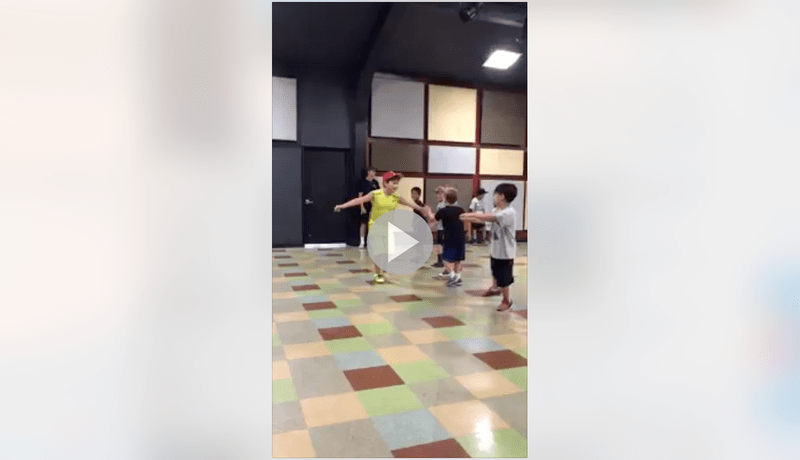 Gabriel Rocking the Spectrum
July 18,2017
Dear We Rockers,
My son, Gabriel's therapist and companion just shared this with me and I am absolutely emotional as I type and share this video with you.
In this video, Gabriel is at camp, teaching the younger campers how to Whip and Nae Nae! This has been an eight-year journey with Gabriel on the spectrum. I know the work will continue, but look at its rewards, my friends! Again, the tears are streaming down my face — I feel like I know this is Gabriel's calling to teach and dance.
He is such a leader in our Kid's Gym and so compassionate to all of the little ones. But to see him now, outside of the gym showing the same leadership, is nothing short of a miracle. Witnessing Gabriel come out of his shell more and more is the most rewarding thing I could experience as a mother.
If you are going through a similar journey with your kiddo on the spectrum, I urge you, don't stop believing!! As hard as it is, keep your kiddos in the gym, let them scream, let them go through their trials. I promise you that if you persevere, you can burst through autism-land!
Now, Gabriel just visits autism-land. He's no longer there 24/7. He lives in our world. I can't begin to express my gratitude for what I see below.
Sincerely,
Dina
Good morning we rockers, I'm very emotional as I type this and upload this video. Gabriel's therapist and companion just shared this with me. In this video he's at camp and he's teaching the younger campers how to whip and nay nay! This has been an eight year work in progress and I know the work will continue, but look at its rewards my friends? Again, the tears are streaming down my face, I feel like I know this is Gabriel's calling to teach and dance. He is such a leader in the gym, so compassionate to all of the little ones. But, to see him now in a group, somewhere besides the gym, showing that same leadership, it's nothing but a miracle to watch. Don't stop believing my friends, as hard as it is keep your kiddos in the gym, let them scream, they will go through their trials, but I promise you if you persevere, you can bust through autism-land! Now Gabriel just visits there, it's not 24 seven anymore, I can't begin to express my gratitude for what I see below. #wrtsworldwide #werocktarzana #inclusion #gabrielsjourney #autismawareness #specialneeds

Posted by Dina Kimmel on Tuesday, July 18, 2017