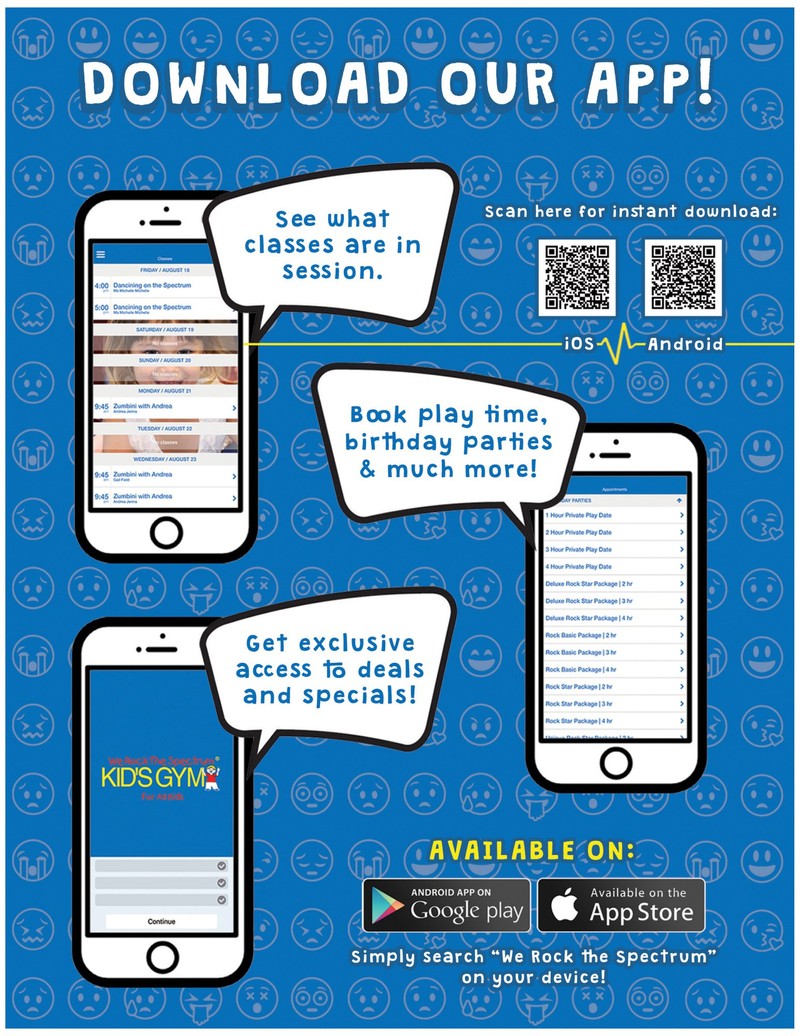 Are you maximizing the benefits of our New and Improved App?
July 12,2018
If you haven't opened up your We Rock the Spectrum Kids Gym app in a while, now is the perfect time to do so! We just released a couple updates that will make you fall in love with the app all over again!
Most Notable Improvements:
You can now sign the liability waiver in the app to get you into the gym as soon as you walk in!
All the paperwork is readily available on the app, you'll no longer need to hunt to find the waiver as the app will immediately recognize if you have one!
The buy services tab has gotten a makeover! The user experience is now much more intuitive as it's organized based off of service categories!
Note: Be sure to use the same email when you register as when you first came to the gym so all your information can be synched!
[rev_slider alias="Appslider2″]
Features you might not know about:
Here are a some features some We Rockers didn't know were a part of the app. Make sure you give them a quick read to get the most out of our application and make every visit rock!
You can book a birthday party right on the app, schedule a breaktime, or sign up for our classes or special events! (When you book a party on the app the gym will contact you ASAP to make sure you're party ROCKS!)
The app has a calendar that showcases all the great things that are coming up at the gym, make sure you check often to see all the ROCKIN' things we have planned for everyone!
Make sure you enable push notifications, if you do, you'll be kept up to date with messages sent directly to your device on the newest promotions or events!
You can view our business hours, check how many visits you have remaining or when your membership expires, or find our easy to access contact information.
[rev_slider alias="Appslider"]
Gyms are always adding new promotions! Make sure you're up to date with the latest and greatest news and events that are coming to your local gym! There are even app exclusive promotions you'll only receive if you have the app!